Standard series VFD module.
Simple commands for character and image display !
Popular small to medium-sized display series with good cost performance.
Command structure is simple to understand.
Those just starting with VFD can easily display characters and images.
A good all-round choice for many applications.
Just power on, and send commands to display text,
graphics, or scroll the screen, etc.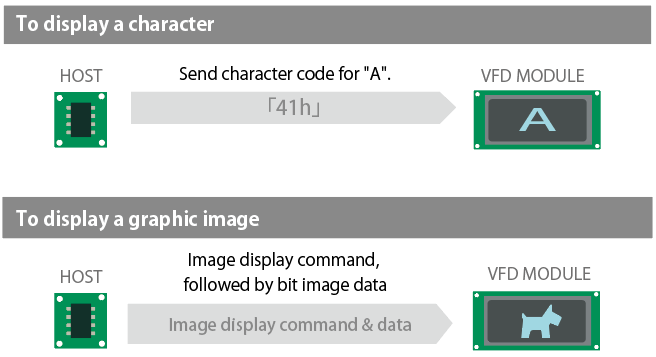 Bit image data?
A block of data arranged where each bit shows the on/off
state of the corresponding dot in the image.
International font for 12 countries
International font for European countries etc, included as standard.
Chinese, Korean, and Japanese (2-byte font) models also available.
Parallel, I2C, SPI, RS232, Async serial, Sync serial
Product lineup
X x Y (dot)

112x16

128x32

128x64

140x16

140x32

144x16

160x80

256x64

280x16
GU112X16G-7000B
Resolution

112x16 dots
Display size

52.50x11.45 mm
Dot pitch

0.47x0.725 mm
Outline size

80.0x36.0 mm
Power supply

5

V
I/F

Parallel(CMOS)
Asynchronous serial

Embedded font

ANK 6x8
INT 6x8

Functions / Features

LCD outline compatible

Touch detection method

-
VFD used

-
Evaluation kit

-
GU112X16G-7003B
Resolution

112x16 dots
Display size

52.50x11.45 mm
Dot pitch

0.47x0.725 mm
Outline size

80.0x36.0 mm
Power supply

5

V
I/F

Synchronous serial(CMOS)
Asynchronous serial(CMOS)
SPI
I²C

Embedded font

ANK 6x8
INT 6x8

Functions / Features

LCD outline compatible

Touch detection method

-
VFD used

-
Evaluation kit

-
GU112X16G-7900B
Resolution

112x16 dots
Display size

52.50x11.45 mm
Dot pitch

0.47x0.725 mm
Outline size

80.0x36.0 mm
Power supply

5

V
I/F

Parallel
Asynchronous serial

Embedded font

ANK 6x8 8x16
INT 6x8 8x16
Japanese 16x16
Chinese 16x16
Korean 16x16

Functions / Features

LCD outline compatible

Touch detection method

-
VFD used

-
Evaluation kit

-
GU112X16G-7000BL
Resolution

112x16 dots
Display size

52.50x11.45 mm
Dot pitch

0.47x0.725 mm
Outline size

80.0x36.0 mm
Power supply

5

V
I/F

Parallel
Asynchronous serial

Embedded font

ANK 6x8

Functions / Features

Power saving
LCD outline compatible

Touch detection method

-
VFD used

-
Evaluation kit

-
GU112X16G-7003BL
Resolution

112x16 dots
Display size

52.50x11.45 mm
Dot pitch

0.47x0.725 mm
Outline size

80.0x36.0 mm
Power supply

5

V
I/F

Synchronous serial(CMOS)
Asynchronous serial(CMOS)
SPI
I²C

Embedded font

ANK 6x8
INT 6x8

Functions / Features

Power saving
LCD outline compatible

Touch detection method

-
VFD used

-
Evaluation kit

-
GU128X32D-7000B
Resolution

128x32 dots
Display size

57.45x13.93 mm
Dot pitch

0.45x0.45 mm
Outline size

98.0x31.0 mm
Power supply

5

V
I/F

Parallel(CMOS)
Asynchronous serial

Embedded font

ANK 6x8
INT 6x8

Functions / Features

-
Touch detection method

-
VFD used

-
Evaluation kit

-
GU128X32D-7003B
Resolution

128x32 dots
Display size

57.45x13.93 mm
Dot pitch

0.45x0.45 mm
Outline size

98.0x31.0 mm
Power supply

5

V
I/F

Synchronous serial(CMOS)
Asynchronous serial(CMOS)
SPI
I²C

Embedded font

ANK 6x8
INT 6x8

Functions / Features

-
Touch detection method

-
VFD used

-
Evaluation kit

-
GU128X32D-7900B
Resolution

128x32 dots
Display size

57.45x13.93 mm
Dot pitch

0.45x0.45 mm
Outline size

98.0x31.0 mm
Power supply

5

V
I/F

Parallel(CMOS)
Asynchronous serial

Embedded font

ANK 6x8 8x16
INT 6x8 8x16
Japanese 16x16
Chinese 16x16
Korean 16x16

Functions / Features

-
Touch detection method

-
VFD used

-
Evaluation kit

-
GU128X32D-7903B
Resolution

128x32 dots
Display size

57.45x13.93 mm
Dot pitch

0.45x0.45 mm
Outline size

98.0x31.0 mm
Power supply

5

V
I/F

Synchronous serial(CMOS)
Asynchronous serial(CMOS)
SPI
I²C

Embedded font

ANK 6x8 8x16
INT 6x8 8x16
Japanese 16x16
Chinese 16x16
Korean 16x16

Functions / Features

-
Touch detection method

-
VFD used

-
Evaluation kit

-
GU128X32D-7050
Resolution

128x32 dots
Display size

54.89x13.93 mm
Dot pitch

0.43x0.44 mm
Outline size

80.0x36.0 mm
Power supply

5

V
I/F

Parallel(CMOS)
Asynchronous serial

Embedded font

ANK 6x8
INT 6x8

Functions / Features

-
Touch detection method

-
VFD used

-
Evaluation kit

-
GU128X32D-7950
Resolution

128x32 dots
Display size

54.89x13.93 mm
Dot pitch

0.43x0.44 mm
Outline size

80.0x36.0 mm
Power supply

5

V
I/F

Parallel(CMOS)
Asynchronous serial

Embedded font

ANK 6x8 8x16
INT 6x8 8x16
Japanese 16x16
Chinese 16x16
Korean 16x16

Functions / Features

-
Touch detection method

-
VFD used

-
Evaluation kit

-
GU128X64F-7000BX
Resolution

128x64 dots
Display size

83.05x41.45 mm
Dot pitch

0.65x0.65 mm
Outline size

137.0x68.0 mm
Power supply

5

V
I/F

Parallel(CMOS)
Asynchronous serial

Embedded font

ANK 6x8
INT 6x8

Functions / Features

High brightness (200% brightness)

Touch detection method

-
VFD used

-
Evaluation kit

-
GU128X64F-7900BX
Resolution

128x64 dots
Display size

83.05x41.45 mm
Dot pitch

0.65x0.65 mm
Outline size

137.0x68.0 mm
Power supply

5

V
I/F

Parallel(CMOS)
Asynchronous serial

Embedded font

ANK 6x8 8x16
INT 6x8 8x16
Japanese 16x16
Chinese 16x16
Korean 16x16

Functions / Features

High brightness (200% brightness)

Touch detection method

-
VFD used

-
Evaluation kit

-
GU140X16G-7000B
Resolution

140x16 dots
Display size

69.85x11.45 mm
Dot pitch

0.50x0.725 mm
Outline size

116.0x37.0 mm
Power supply

5

V
I/F

Parallel(CMOS)
Asynchronous serial

Embedded font

ANK 6x8
INT 6x8

Functions / Features

LCD outline compatible

Touch detection method

-
VFD used

-
Evaluation kit

-
GU140X16G-7003B
Resolution

140x16 dots
Display size

69.85x11.45 mm
Dot pitch

0.50x0.725 mm
Outline size

116.0x37.0 mm
Power supply

5

V
I/F

Synchronous serial(CMOS)
Asynchronous serial(CMOS)
SPI
I²C

Embedded font

ANK 6x8
INT 6x8

Functions / Features

LCD outline compatible

Touch detection method

-
VFD used

-
Evaluation kit

-
GU140X16G-7900B
Resolution

140x16 dots
Display size

69.85x11.45 mm
Dot pitch

0.50x0.725 mm
Outline size

116.0x37.0 mm
Power supply

5

V
I/F

Parallel(CMOS)
Asynchronous serial

Embedded font

ANK 6x8 8x16
INT 6x8 8x16
Japanese 16x16
Chinese 16x16
Korean 16x16

Functions / Features

LCD outline compatible

Touch detection method

-
VFD used

-
Evaluation kit

-
GU140X16J-7000B
Resolution

140x16 dots
Display size

102.75x18.8 mm
Dot pitch

0.74x1.19 mm
Outline size

146.0x43.0 mm
Power supply

5

V
I/F

Parallel(CMOS)
Asynchronous serial

Embedded font

ANK 6x8
INT 6x8

Functions / Features

-
Touch detection method

-
VFD used

-
Evaluation kit

-
GU140X16J-7003B
Resolution

140x16 dots
Display size

102.75x18.8 mm
Dot pitch

0.74x1.19 mm
Outline size

146.0x43.0 mm
Power supply

5

V
I/F

Synchronous serial(CMOS)
Asynchronous serial(CMOS)
SPI
I²C

Embedded font

ANK 6x8
INT 6x8

Functions / Features

-
Touch detection method

-
VFD used

-
Evaluation kit

-
GU140X16J-7900B
Resolution

140x16 dots
Display size

102.75x18.8 mm
Dot pitch

0.74x1.19 mm
Outline size

146.0x43.0 mm
Power supply

5

V
I/F

Parallel(CMOS)
Asynchronous serial

Embedded font

ANK 6x8 8x16
INT 6x8 8x16
Japanese 16x16
Chinese 16x16
Korean 16x16

Functions / Features

-
Touch detection method

-
VFD used

-
Evaluation kit

-
GU140X32F-7000B
Resolution

140x32 dots
Display size

69.85x21.61 mm
Dot pitch

0.5x0.68 mm
Outline size

98.0x60.0 mm
Power supply

5

V
I/F

Parallel(CMOS)
Asynchronous serial

Embedded font

ANK 6x8
INT 6x8

Functions / Features

LCD outline compatible

Touch detection method

-
VFD used

-
Evaluation kit

-
GU140X32F-7003B
Resolution

140x32 dots
Display size

69.85x21.61 mm
Dot pitch

0.5x0.68 mm
Outline size

98.0x60.0 mm
Power supply

5

V
I/F

Synchronous serial(CMOS)
Asynchronous serial(CMOS)
SPI
I²C

Embedded font

ANK 6x8
INT 6x8

Functions / Features

LCD outline compatible

Touch detection method

-
VFD used

-
Evaluation kit

-
GU140X32F-7900B
Resolution

140x32 dots
Display size

69.85x21.61 mm
Dot pitch

0.5x0.68 mm
Outline size

98.0x60.0 mm
Power supply

5

V
I/F

Parallel(CMOS)
Asynchronous serial

Embedded font

ANK 6x8 8x16
INT 6x8 8x16
Japanese 16x16
Chinese 16x16
Korean 16x16

Functions / Features

LCD outline compatible

Touch detection method

-
VFD used

-
Evaluation kit

-
GU140X32F-7903
Resolution

140x32 dots
Display size

69.85x21.61 mm
Dot pitch

0.5x0.68 mm
Outline size

98.0x60.0 mm
Power supply

5

V
I/F

Synchronous serial(CMOS)
Asynchronous serial(CMOS)

Embedded font

ANK 6x8 8x16
INT 6x8 8x16
Japanese 16x16
Chinese 16x16
Korean 16x16

Functions / Features

LCD outline compatible

Touch detection method

-
VFD used

-
Evaluation kit

-
GU140X32F-7050
Resolution

140x32 dots
Display size

69.85x21.61 mm
Dot pitch

0.5x0.68 mm
Outline size

98.0x47.0 mm
Power supply

5

V
I/F

Parallel(CMOS)
Asynchronous serial

Embedded font

ANK 6x8
INT 6x8

Functions / Features

-
Touch detection method

-
VFD used

-
Evaluation kit

-
GU140X32F-7053
Resolution

140x32 dots
Display size

69.85x21.61 mm
Dot pitch

0.5x0.68 mm
Outline size

98.0x47.0 mm
Power supply

5

V
I/F

Synchronous serial(CMOS)
Asynchronous serial(CMOS)

Embedded font

ANK 6x8
INT 6x8

Functions / Features

-
Touch detection method

-
VFD used

-
Evaluation kit

-
GU140X32F-7950
Resolution

140x32 dots
Display size

69.85x21.61 mm
Dot pitch

0.5x0.68 mm
Outline size

98.0x47.0 mm
Power supply

5

V
I/F

Parallel(CMOS)
Asynchronous serial

Embedded font

ANK 6x8 8x16
INT 6x8 8x16
Japanese 16x16
Chinese 16x16
Korean 16x16

Functions / Features

-
Touch detection method

-
VFD used

-
Evaluation kit

-
GU140X32F-7064B
Resolution

140x32 dots
Display size

69.85x21.61 mm
Dot pitch

0.5x0.68 mm
Outline size

120x40 mm
Power supply

5

V
I/F

Synchronous serial(CMOS)
Asynchronous serial(CMOS)
SPI
I²C

Embedded font

ANK 6x8
INT 6x8

Functions / Features

-
Touch detection method

-
VFD used

-
Evaluation kit

-
GU144X16D-7053B
Resolution

144x16 dots
Display size

57.45x7.85 mm
Dot pitch

0.4x0.5 mm
Outline size

98.0x23.0 mm
Power supply

5

V
I/F

Synchronous serial(CMOS)
Asynchronous serial(CMOS)
SPI
I²C

Embedded font

ANK 6x8
INT 6x8

Functions / Features

-
Touch detection method

-
VFD used

-
Evaluation kit

-
GU160X80E-7900B
Resolution

160x80 dots
Display size

83.08x41.48 mm
Dot pitch

0.52x0.52 mm
Outline size

137.0x68.0 mm
Power supply

5

V
I/F

Parallel(CMOS)
Asynchronous serial

Embedded font

ANK 6x8 8x16
INT 6x8 8x16
Japanese 16x16
Chinese 16x16
Korean 16x16

Functions / Features

-
Touch detection method

-
VFD used

-
Evaluation kit

-
GU256X64D-7000BX
Resolution

256x64 dots
Display size

115.05x28.65 mm
Dot pitch

0.45x0.45 mm
Outline size

159.0x50.0 mm
Power supply

5

V
I/F

Parallel(CMOS)
Asynchronous serial

Embedded font

ANK 6x8
INT 6x8

Functions / Features

High brightness (200% brightness)

Touch detection method

-
VFD used

-
Evaluation kit

-
GU256X64D-7900BX
Resolution

256x64 dots
Display size

115.05x28.65 mm
Dot pitch

0.45x0.45 mm
Outline size

159.0x50.0 mm
Power supply

5

V
I/F

Parallel(CMOS)
Asynchronous serial

Embedded font

ANK 6x8 8x16
INT 6x8 8x16
Japanese 16x16
Chinese 16x16
Korean 16x16

Functions / Features

High brightness (200% brightness)

Touch detection method

-
VFD used

-
Evaluation kit

-
GE256X64B-7032B
Resolution

256x64 dots
Display size

71.4x19.0 mm
Dot pitch

0.279x0.298 mm
Outline size

94.0x36.0 mm
Power supply

3.3

V
I/F

Parallel(CMOS)
Synchronous serial(CMOS)
Asynchronous serial(CMOS)
SPI(CMOS)

Embedded font

ANK
INT

Functions / Features

-
Touch detection method

-
VFD used

-
Evaluation kit

-
GE256X64C-7933B
Resolution

256x64 dots
Display size

87.5x21.3 mm
Dot pitch

0.342x0.333 mm
Outline size

115.0x36.0 mm
Power supply

3.3

V
I/F

Synchronous serial(CMOS)
Asynchronous serial(CMOS)
SPI

Embedded font

ANK 8x16
INT 8x16
Japanese 16x16
Chinese 16x16
Korean 16x16

Functions / Features

-
Touch detection method

-
VFD used

-
Evaluation kit

-
GU280X16G-7000
Resolution

280x16 dots
Display size

137.05x11.0 mm
Dot pitch

0.49x0.70 mm
Outline size

182.0x33.5 mm
Power supply

5

V
I/F

Parallel(CMOS)
Asynchronous serial

Embedded font

ANK 6x8
INT 6x8

Functions / Features

-
Touch detection method

-
VFD used

-
Evaluation kit

-
GU280X16G-7003
Resolution

280x16 dots
Display size

137.05x11.0 mm
Dot pitch

0.49x0.70 mm
Outline size

182.0x33.5 mm
Power supply

5

V
I/F

Synchronous serial(CMOS)
Asynchronous serial(CMOS)

Embedded font

ANK 6x8
INT 6x8

Functions / Features

-
Touch detection method

-
VFD used

-
Evaluation kit

-
Graphic VFD Module

Character VFD Module