PRODUCTS
LCD Touch Screen Modules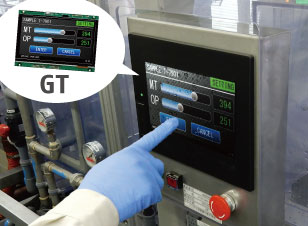 LCD Touch Screen Modules (also known as "GT")
is Noritake's original touch LCD module product.

A smooth touch feeling due to the capacitance type.
And the feature is that it can be handled comfortably
even through thick gloves and a thick cover.
You can choose from two types depending on your environment.

Measuring instruments, cookers, medical instruments,
factory equipment, adjustment machines, game machines, etc ...
Please use it for a wide range of purposes.