PRODUCTS
GUI controlled/GT-SP-series
The new type is "

GT-SP

-series (GUI Controlled)"
This is a touch display for embedding in equipment
that allows
easy screen development with

PC and mouse operations

.
---
Intuitive on-screen design with free development software!
We provide development support software
for
GUI design

free of charge

.
You can intuitively design the screen by placing
buttons and text by

dragging and dropping

.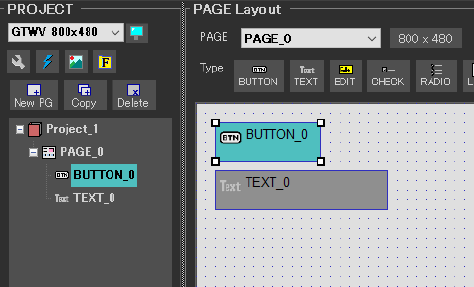 The action to take in response to touch inputs can also
be selected using the mouse, enabling rapid development
without needing to write program code

.
---
Easy control, reduced load on host microcontroller!
The screen is easily controlled by commands sent from the
host
microcontroller via a

serial connection

to the GT-SP.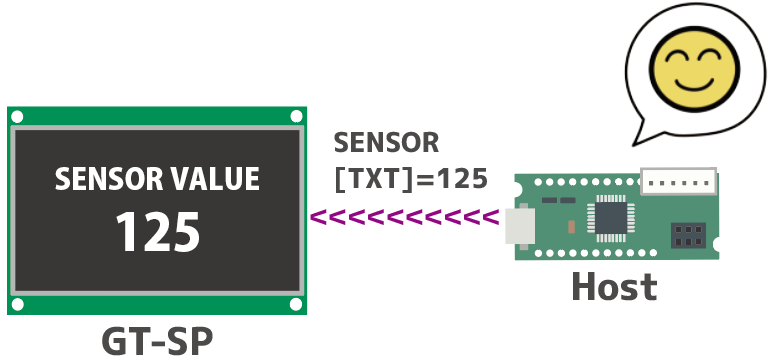 The GT-SP is able to independently process
touch inputs
and control the screen display,
significantly reducing the load on the host system

.
---
Excellent touch performance of the GT range
equipped with a

highly sensitive capacitive touch panel

.
You can comfortably operate the touch panel
even under
harsh conditions

such as
through gloves, covers, or in a wet environment.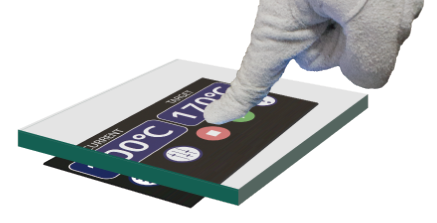 Product lineup
GTWV070S3A00P
7 inch size standard model.
*I²C and SPI are scheduled to be supported around autumn 2023.
*If you use the user font registration function, you can also support Japanese, Chinese, and Korean fonts.
Screen size

7 inches
Resolution

800x480 pixels
Display size

154.08x85.92 mm
Outline size

165.0x118.5 mm
Brightness

850 cd/m2(nit)
I/F

Asynchronous serial(CMOS)
USB(High speed)(Full speed)(Win-USB)

Embedded font

ANK

Functions / Features

Built-in touch panel
Built-in general purpose I/O
GUI control function

Lineup

GUI controlled/GT-SP-series